Skylight Installation in Trenton & Nearby New Jersey and Pennslyvania Areas
Add natural light and improve energy efficiency with a new skylight
Whether you're seeking to let more natural light into your home or increase your energy efficiency, a skylight is a fantastic option.
Paragon Roofing is a fully licensed and award winning contractor that excels in roof repair, roof replacement, skylight installation and other work.
Paragon Roofing installs quality skylights that will improve the lighting in your home and give your rooms a more open feel. We can provide you with the perfect skylight to fit your needs and match any room in your house.
If you want to add a new skylight to your home, give us a call today at 1-844-385-7417 or click below to get started! We offer free estimates in Levittown, Trenton, Newtown and throughout the surrounding areas.
A new skylight creates a better room
A skylight is a simple yet effective upgrade for your home that brings several benefits. A few notable ones are:
Better lighting: A new skylight will allow you to use less electricity by increasing the light flow into your room from your roof.
Add natural light: A skylight is also a great way to bring natural light into a private room, such as a bathroom or walk-in closet, where you might not want a traditional window.
More open feel: Skylights open up the roof and ceiling to the outdoors, create an illusion of more space that can be very helpful in smaller rooms or areas with lower ceilings.
Improved energy efficiency: Old skylights often have worn weather seals that allow air flow, causing you to waste money on utility costs. A new installation will solve these problems.
Products
Velux has been an industry leader in skylights and roof windows for over 60 years, providing high quality, energy efficient options for homeowners around the world.
Benefits of Velux Skylights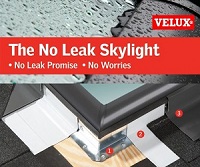 Natural Light: Skylights increase the amount of sunlight in your home, lessening the use of electric lights
Fresh Air: Skylights add to the airflow in your home and can reduce the need for air conditioners
Privacy: Adding a skylight in a bathroom is great way to create natural light and a view without sacrificing privacy
Increased Storage: Using skylights as the primary lighting for a kitchen will free up walls that can be used for cabinet space
Modern Benefits: Skylights with blinds offer total control for light, while Velux skylights come with sensors that automatically close at the first sign of rain
Wasco Skylights has been manufacturing quality skylights since 1935, providing natural light and energy efficiency to residential and commercial customers throughout the country.
Wasco Skylights
Wasco provides industry leading skylights for residential customers. Wasco Skylight options include:
Energy efficient glass
Solar powered motorized venting
Large span skylights
Retractable shades
Get a new skylight for your home today
A skylight is a great way to upgrade your home and here at Paragon Roofing we've got the expertise to make that installation a success. Our team will help you identify top locations and you can always count on us to only provide the very best in materials.
When you install a full beautiful skylight into your home, you'll step up the amount of natural light into your home.
Call us today to get started on skylight installation with a free estimate! We offer all our services in Trenton, Levittown, Newtown, Willingboro, Princeton, Burlington, Newark, Jersey City, Paterson, Philadelphia and throughout the surrounding areas.
Looking for a price? Get a no cost, no obligation free estimate.